GIVING ADVICE AND MAKING SUGGESSTIONS
EXAMPLES>
YOU SHOULD…
IF I WERE YOU, I WOULD…
MY ADVICE WOULD BE…
HOW ABOUT…
WHY DON'T YOU…
I SUGGEST…
You should try to learn English everyday.
I think you should go home early.
Why don't you join an English club?
You'd better wake up early.
Let's have dinner together.
What about having a cup of coffee with me?
How about going to the cinema?
Don't you think it would be a good idea to have a picnic this Sunday.
If I were you, I'd call her.
I suggest that you take a nap.
You may want to try on this T-shirt.
Perhaps you could take an umbrella with you.
I strongly advise you to do more work out.
I recommend that you get some rest.
It's better for you to sleep a little more.
JULIE AND PAUL
WHAT IS JULIE'S PROBLEM?
WHAT ADVICE DOES PAUL GIVE?
DOES JULIE AGREE WITH HIM?
DOES PAUL GIVE FURTHER SUGGESTIONS?
WHAT DOES PAUL RECOMMEND?
WHAT DOES PAUL SUGGEST?
IN PAIRS, STUDENT A IS GOING TO GIVE A PROBLEM AND STUDENT B IS GOING TO GIVE THEM ADVICE USING THE EXAMPLES ABOVE.
CLASS DISCUSSION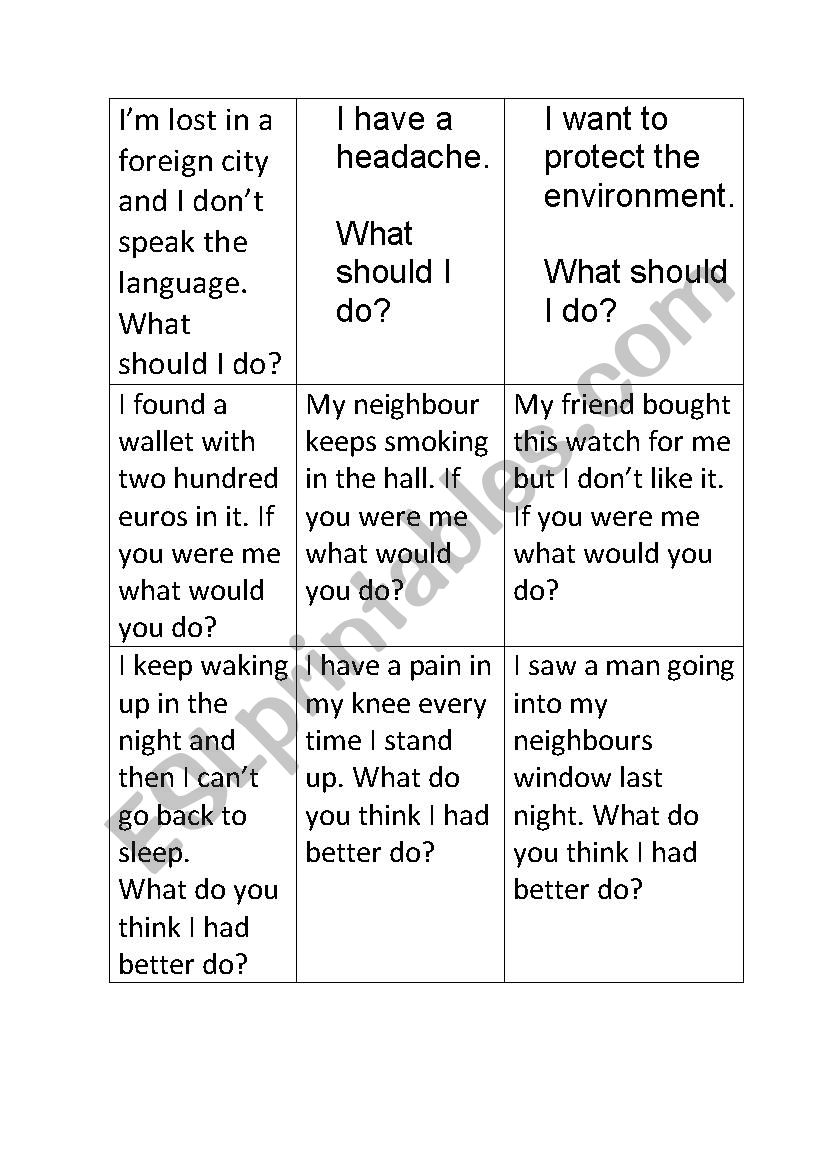 SAY IF YOU AGREE OR DISAGREE WITH THE ADVICE YOUR CLASSMATES HAVE GIVEN.