SWIMMING
WHY IS SWIMMING AN IMPORTANT LIFE SKILL?
AT WHAT AGE CAN CHILDREN START LEARNING HOW TO SWIM?
WHAT IS YOUR EXPERIENCE LEARNING HOW TO SWIM?
VOCABULARY:
SHALLOW END- DEEP END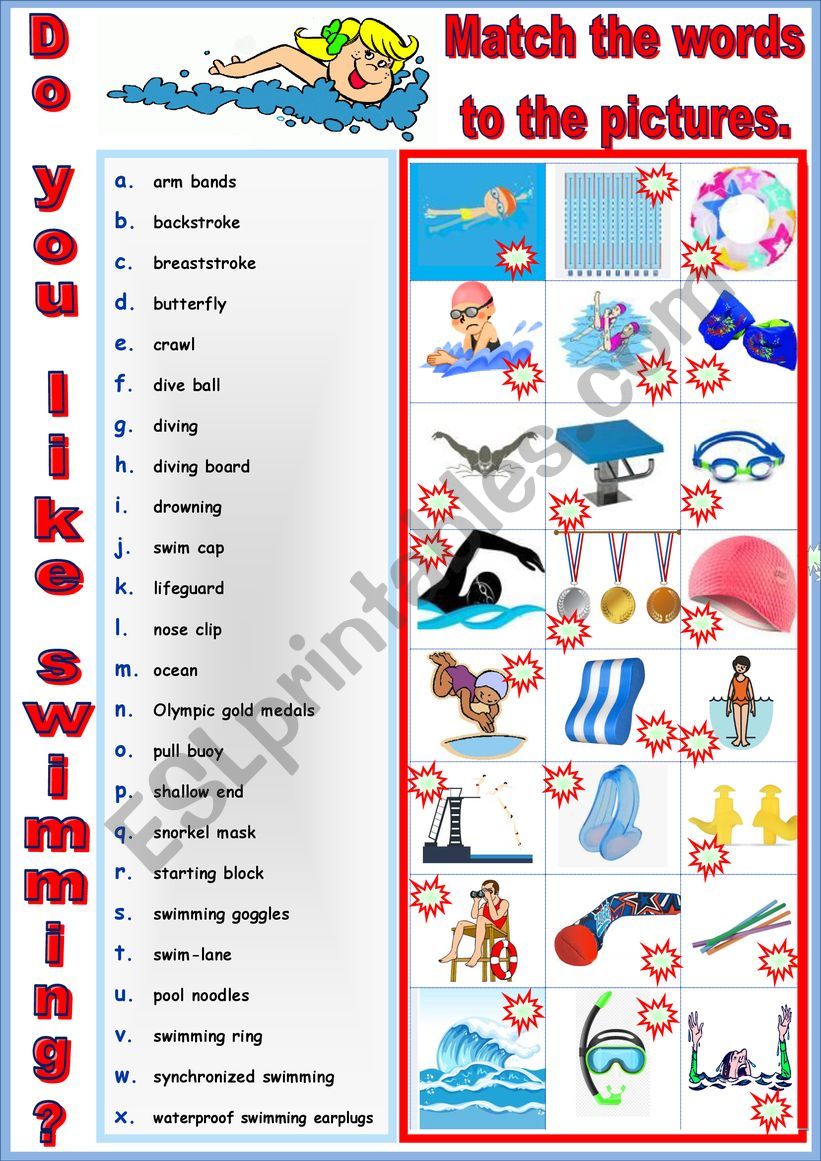 SWIMMING STYLES
FRONT CRAWL
BACKSTROKE
BREASTSTOKE
BUTTERFLY
FREESYLE
LET´S PRACTICE TALKING ABOUT SWIMMING … WE ARE GOING TO PRACTICE STUDENT B
discuss2-swimming

wordbank-15-swimming

Wow – it's so hot! I can't wait to finish work today.
Yeah – I'm going swimming!
What a great idea! Are you a very good swimmer?
Not really. I'm going to do a few lengths and then lie on a sun lounger and read my book for a bit. Do you like swimming?
Well, I was the junior diving champion when I was at school and I worked as a lifeguard for a few summers when I was at university.
Junior diving champion? That's amazing! I was a bit afraid of the water as a kid. It took me years to get out of the shallow end of the pool. I didn't like all the splashing and dunking the other kids did and I certainly didn't like deep water.
Lots of people feel the same way. It's great that you learned how to swim and that you can enjoy the water now.
Yeah. I love hanging out at the pool these days. I go at least once a week.
It's the Metropole Club, just around the corner from here. They've got indoor and outdoor pools. There's even a water slide for the kids!
What are the changing rooms like?
Pretty good – they're really clean and the showers are always hot. The only thing I don't like about the Metropole is that you have to wear a swimming cap in the pool. No one looks good in one of those!
I know, but it keeps the water clean. Tell me how much it costs to join the Metropole Club. I think I'd like to start swimming again …
MY TOPIC:
SWIMMING
SWIMMING IS A VERY POPULAR SPORT AND IT IS A VERY IMPORTANT LIFE SKILL. WE NEED IT FOR OUR FUTURE. IT HELPS YOU TO BE STRONG AND HEALTHY.
I STARTED SWIMMING WHEN I WAS 3 YEARS OLD. MY MUM ENROLLED ME FOR SWIMMING CLASSES IN THE LA OLIVA SWIMMING POOL. SHE WANTED ME TO START LEARNING TO SWIM WHEN I WAS YOUNG. I WORE ARM BANDS TO HELP ME FLOAT IN THE SWIMMING POOL AND IT WAS EASIER FOR ME TO LEARN HOW TO SWIM.
MY FIRST SWIMMING LESSON WAS FUN. MY MUM TOOK ME TO THE CLASS AND I LEARNED HOW TO FLOAT AND JUMP IN THE POOL TO CATCH TOYS. I WENT  SWIMMING 3 TIMES A WEEK. I WAS NEVER AFRAID OF THE WATER.
I STARTED LEARNING HOW TO SWIM IN THE LA OLIVA POOL BUT NOW I AM SWIMMING IN THE PUERTO DEL ROSARIO POOL. IT´S AN INDOOR POOL AND IT´S ALWAYS  VERY HOT THERE. I DON´T LIKE HOW HOT IT IS. I PREFER TO SWIM IN AN OUTDOOR POOL. THE PUERTO DEL ROSARIO POOL IS BIGGER THAN THE POOL IN LA OLIVA AND THE TEACHERS ARE NICER TOO. THE BEST TEACHER IS JOSE. HE HELPS US LEARN HOW TO DIVE AND SWIM UNDERWATER. HE IS VERY STRICT BUT HE IS ALWAYS HAPPY. I PREFER SWIMMING IN THE DEEP END THAN IN THE SHALLOW END OF THE POOL. I NEVER WEAR ARM BANDS NOW. MY DAD ALWAYS BUY ME A NEW SWIMMING COSTUME AND GOOGLES EVERY YEAR. I DON´T NEED ANY OTHER EQUIPMENT. THE SWIMMING COACH USUALLY GIVE US SWIMMING CAPS WHEN WE ARRIVE AT THE POOL.
I REALLY LIKE GOING TO SWIMMING LESSONS. I GO 4 TIMES A WEEK AND I USUALLY GO WITH MY FRIENDS. MY FAVOURITE SWIMMING STYLE IS BREAST STROKE. IT´S VERY RELAXING AND I CAN SWIM FOR A LONG TIME. I DISLIKE WHEN WE HAVE TO SWIM BACKSTROKE. IT´S MORE DIFFICULT FOR ME BECAUSE I CAN´T SWIM IN A STRAIGHT LINE. I SWIM VERY WELL BUT I SWIM BACKSTROKE BADLY. I TRAIN VERY HARD BUT I CAN NEVER GET BETTER AT BACKSTROKE.
I´M GOING TO GO TO SWIMMING  CLASSES MORE OFTEN NEXT YEAR. I WANT TO GET MY COMPLETION CERTIFICATE AND START SWIMMING WITH A TEAM.
I AM GOING TO PRACTICE SYCRONISED SWIMMING AND I AM GOING TO COMPETE IN SWIMMING COMPETITIONS.
I HOPE TO WIN A LOT OF MEDALS.
I THINK IT´S A GOOD IDEA TO KEEP SWIMMING IN MY LIFE BECUASE IT´S GOOD FOR MY HEALTH.
I AM GOING TO PRACTICE SWIMMING 5 TIMES A WEEK BECAUSE I WANT TO IMPROVE MY SWIMMING AND DIVING TECHNIQUES.